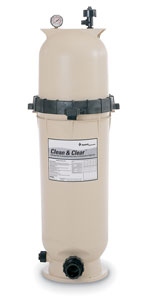 The Pentair Clean & Clear filter features a chemical resistant tank and a coreless
cartridge for easier cleaning. This filter is NSF listed and is available in 50, 75, 100,
150, and 200 square foot sizes.


Hayward Star-Clear Plus filters offer quality filtration. Star-Clear Plus filter tanks are made from extra durable glass that's reinforced co-polymer material to meet the demands of the toughest applications including infloor cleaning systems. This filter is NSF listed and is available in 75, 90, 120 and 175 square foot sizes.
This pump is called WhisperFlo for good reason. It's design moves water more efficiently and more quietly than competitive pumps. The
WhisperFlo offers the highest water flow of any high performance pump, yet with the lowest electrical consumption. It's thermoplastic housing withstands extreme heat and resists corrosion. The commercial grade motor frame has a rust-proof, stainless steel motor shaft and sealed bearings that won't ever need lubrication. The WhisperFlo is built to last a lifetime, and as a result it has become the industry's top seller for years. It's available in single-speed and two-speed models and is ideal for pool and spa combinations and for operating in-floor cleaning systems.



A Stenner Feeder is a rotating assembly of rollers that compresses a flexible tube within a housing to create a vacuum to lift a chemical solution. The self-priming peristaltic pump is also referred to as a hose, tube or dosing pump. The Stenner Feeder is commonly used to inject chemicals into commercial pools.
G.E. replacement motors have an internal heavy duty fan that provides flow through ventilation for fast, efficient cooling. All motors are thermally protected and are highly resistant to moisture and contamination. Contact us today for more information.


Scheduling and controlling the operation of pool and spa equipment and related poolscape accessories is blissfully automatic, simple and affordable with the EasyTouch control system. They eliminate the inconvenience of repeated trips to your equipment, memorizing operating sequences, opening and closing valves and resetting time clocks and thermostats. The EasyTouch system is the simplest to program and operate, it's push button simple. EasyTouch systems are available for separate pools and spas, as well as pool/spa combinations with shared equipment or separate circulation systems. You can control up to 8 functions such as your motors, heaters, fountains, landscape lighting, waterfalls and more.


Pentair IntelliChlor Chlorine Generator. Electrolytic Chlorine Generation is the easiest, most effective and convenient way to keep your pool water sparkling clean. The IntelliChlor chlorine generator uses common table salt to produce all the chlorine your pool needs, right in your pool-safely, effectively and automatically. It offers the same sanitation performance as manual chlorine addition without the drawbacks. No need to buy or transport expensive chlorine compounds.
The Sta-Rite Max-E-Therm heater, with low operating cost, a rust-proof enclosure, easy to read digital display, automated control system, a self diagnostic control panel and environmentally friendly, this heater is ready to give you warm, comfortable swimming all year round. Call us today for a free estimate.